Elizabeth Knight, Esq. - Attorney Consultant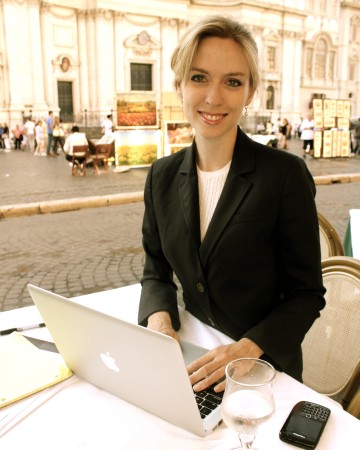 I'm way ahead of you. Six hours ahead of you. And your opposing counsel.
I'm an American attorney and top-25 law school graduate, with five years of experience in both large and small law firms, currently living in Europe. I keep my law practice alive and food on the table by providing top-quality work product for your law firm on a contract basis. My rates are reasonable and I'm fun to work with. My location in Europe means I'm working hard for your client and making money for you while you (and your opposing counsel) are sleeping. Using me, your firm becomes a 24-hour operation. Hand something off to me in the evening and have it waiting for you when you arrive in the morning. Or, if you prefer, I work during your regular business hours in real time with you. I have a fully equipped home office by the Vatican and I am always online. So go ahead and take your vacation, or leave early to go to your daughter's recital -- I can do that project for you. I am on it!
I also serve as local counsel for American firms and companies with issues arising in Italy. I do not practice Italian law, but when your lawsuit or transaction has deposition, document or discovery needs in Italy, I handle all of this for you in both languages.

In addition, I consult with Italian individuals and companies on issues of U.S. law.

Email me and let me know how I can help. All 50 states. Most practice areas. Any sized project.